Dental Team – Reno, NV
The Faces Behind the Scenes
Who Make Each Visit Special
Our dental team is composed of some of the most compassionate and kind people you'll ever meet! From the moment you enter through our practice doors, you'll be able to feel the welcoming, warm, and familiar environment that they've worked hard to create. Our team has an openness and attentiveness about them that makes our patients feel a little more at-ease, and it shows in our Google reviews (5-stars!). To learn more about our team and the faces behind the scenes that make our office as amazing as it is, read below.
Jesailine,
Front Desk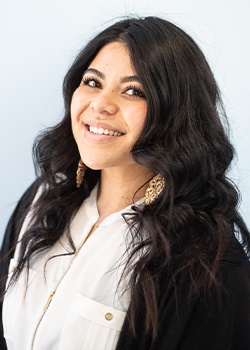 Jesailine (who goes by Jessy) works hard to help our patients and families have great experiences here. Building relationships is her favorite part of the job! She is the oldest of five siblings and has a Golden Doodle named Theo at home. Away from work, you can typically find her hanging out with her family, going to the gym, traveling, hiking, running with her dog, and giving to the homeless.
Arielle,
Treatment Coordinator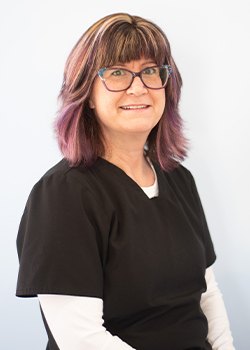 Arielle has been working in the dental world for well over a decade now in almost every possible position, and she's proud to be part of the best team ever today! She really enjoys getting to know our patients and their families so well over time. Originally from Lake Oswego, OR, she completed the dental hygiene program at Carrington College. At home, she is married with two daughters and two dogs (a German Shepherd and a Lab). Her favorite hobbies include cooking, baking, and trying out lots of new recipes.
Makayla,
Dental Assistant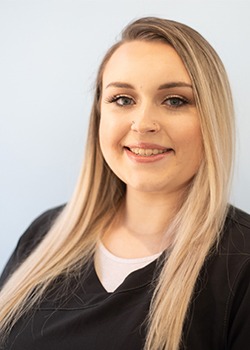 Makayla studied at the National School of Dental Assisting and will be attending the hygiene program soon at TMCC. She loves coming to work every single day, seeing the families, and building relationships with patients! Born and raised in Reno, she loves hanging out with her active family, exercising, snowshoeing, and hiking with her dog Millie. She also spends lots of time around the water and regularly goes camping! Frenchman's Lake and Buck's Lake are two of her favorite locations. She additionally adores Newport Beach.
Victoria,
Dental Assistant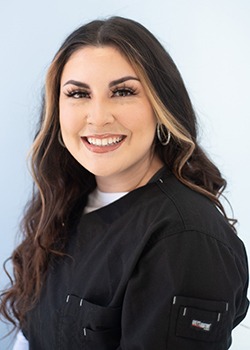 Being a pediatric dental assistant, Victoria loves working with kids and giving them a wonderful experience! Seeing their little faces light up when they get a fun prize at the end of their visit is the cutest thing to witness, and teaching them about good oral hygiene will forever hold a special place in her heart. At home, she has a daughter named London who is her absolute world. Her favorite hobbies include hiking, camping, taking road trips, journaling, working out, and hanging out with loved ones.